Air Jihlava - service s.r.o. company was founded in 2005 on the initiative of present owners Ing. Zdeněk Kölbl and Ing. Aleš Matula. The primary intention was to found a maintenance organization for repair and regular maintenance of small airplanes.
The license for service works was given to the company by the Civil Aviation Authority in July 2005. Since then we have already got authorization for many types of airplanes and also for more other activities. Nowadays we are holders of authorization for aerial service according to PART M Subpart F and we are proud to be one of first organizations of this kind which has got a continuing airworthiness management organisation approval certificate according to PART M Subpart G.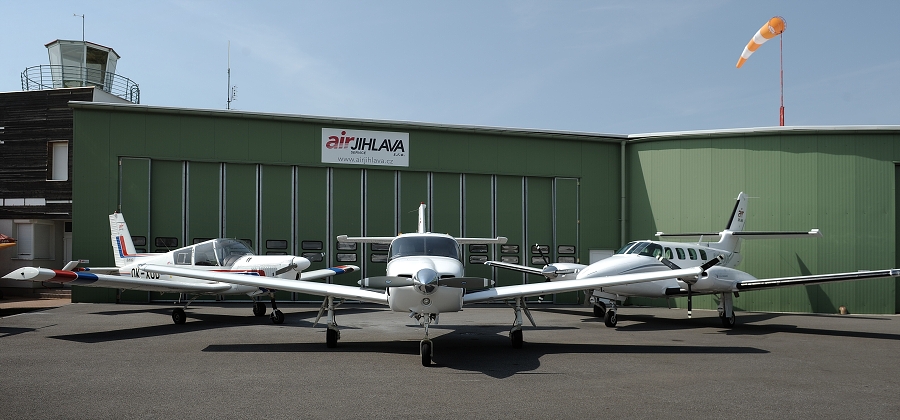 We have got an authorization for maintenance of these airplane types: L-200, Z-42, Z-142, Z-43, L-60, Z-126, Z-226, Cessna types 100 and 200, L-13SW/SE. L-33, L-13, VSO-10 and we are authorized service for ultralights KP-2U Sova (Rapid - Skyleader).
We also (parallel with service) started activity in the area of aerial works and airplane operation. We are holders of an authorization for aerial works and our main activities are pilot teaching in our flight school, photo flights, aerial works in agriculture and air drop flights (since 2009).
Since 2007 we have been cooperating with První brněnská strojírna a.s. Velká Bíteš operating and providing them with maintenance of an experimental glider L-13TJ, on which the qualities of the company´s unique turbojet engine are being verified.
All our activities are carried out by highly qualified staff in well-equipped maintenance facility which provides hangar space and sanitary facilities as well.